Transact for Students
Transact is the new online payment processor for charges at Northeast. Students, delegates, faculty, and staff are able to pay their charges by credit card, ACH (electronic check), or international wire. Transact delivers several enhanced features that were not available through our old system, including:
Stored Data
Customers have the ability to store their payment information in the Transact system-- no need to find your card or checkbook every time you want to make a payment.
Payment Plans
Want to sign up for a tuition payment plan? Customers can sign up for a payment plan inside the Transact application without speaking to Student Business!
Global Wire
Thanks to an embedded integration with Western Union Business Solutions, customers can easily convert and wire funds from almost anywhere in the world.
Site Overview
The primary landing page for authenticated users in Transact is the Overview page. From here, users can navigate to a number of services.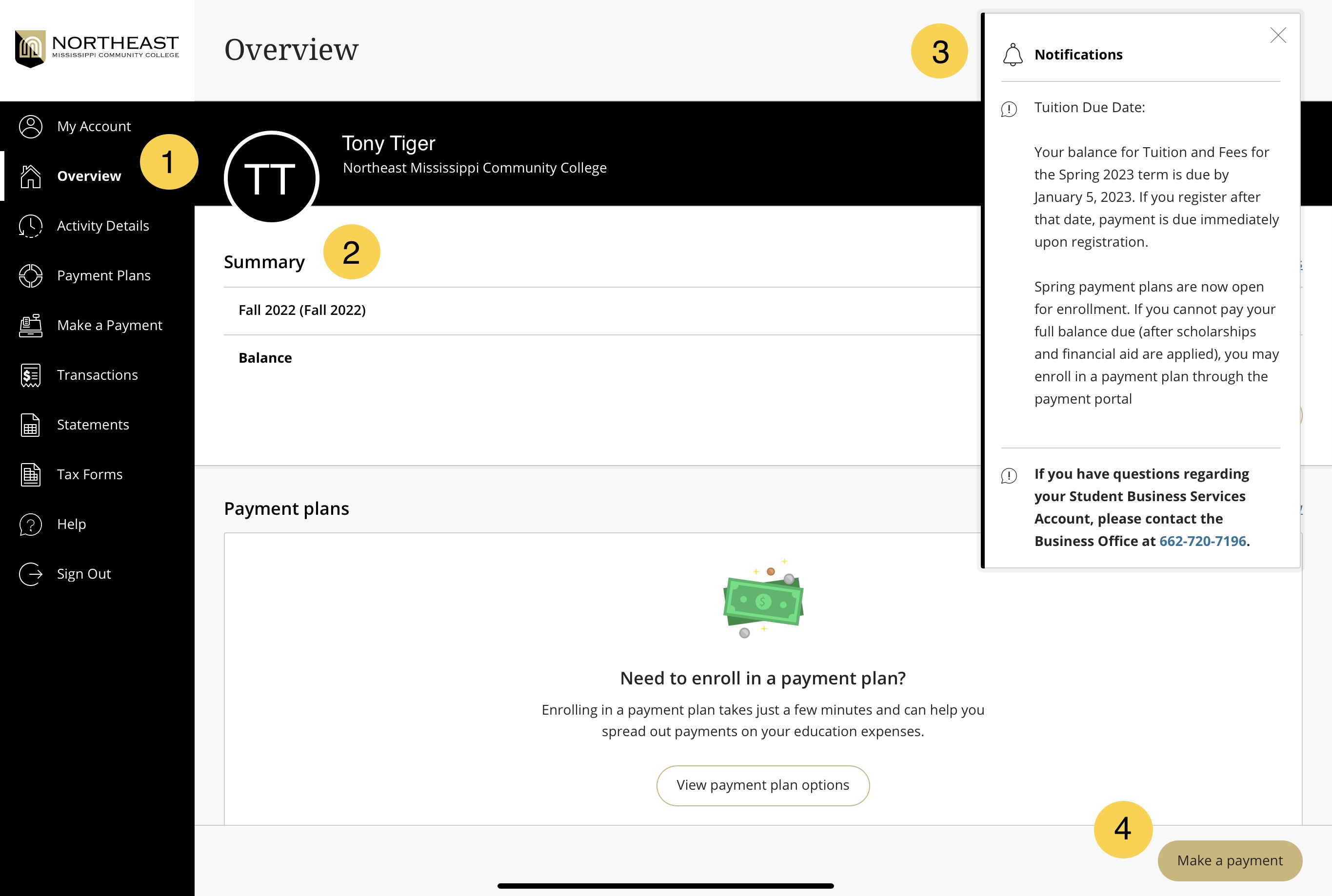 Details
My Account: Through the My Account page, users can add, modify, or remove stored payment accounts and eRefund accounts for financial aid refunds and other credit balances.
Activity Details: The account activity data gives users access to their account transactional data at any time.
Payment Plans: Students and delegates can sign up for payment plans for tuition and fees through this page. 
Make a Payment: Payments can be made via credit card, ACH, or International Wire for the full or partial amount of what is owed.
Transactions: This is a sequential list of transactions that have been processed within Transact. This page will be blank for all users who have not submitted a transaction in Transact.
Statements: View detailed account statements.
Tax Forms: When available, students will be able to view and print their 1098T tax forms.
Help: This section provides contact information for Northeast Mississippi Community College or Transact Campus support to assist with questions related to your balance, payment plans, direct deposit refunds, making payments, and service charges.
Sign Out: Select "Sign Out" to be signed out of the system.
Summary: This is a summary of a user's charges.
Notifications: The notifications window opens every time a user navigates to Transact. This window contains global information such as system downtime or contact information.
Important Messages: This section details important user-specific information such as restrictions on payment tenders.
Make a Payment: Payments can be made via credit card, ACH, or International Wire for the full or partial amount of what is owed.