Success
In 2018 Northeast Mississippi Community College embraced a 1:1 iPad initiative, and the world changed for Northeast Mississippi Community College. The Northeast team understood that addressing barriers such as lack of equity, high costs, and outdated technology was imperative for student success. By developing an initiative to provide students with the opportunity to have a current device in the classroom coupled with reduced course material costs by using Open Educational Resources (OER), Northeast was able to remove these barriers and pave the way for student success. By eliminating the high cost of textbooks, the college made its educational offerings available to more than just those coming on scholarship. Now, anyone wanting an education could receive an education and would also have experience with the latest technology when they graduate.
In Fall 2015, the average cost of a single textbook at Northeast was $214. With the combined initiatives of 1:1 iPad and OER implementation, textbook costs have significantly dropped. As the college adds more Open Educational Resources (O.E.R.) to its repertoire, the average cost of textbooks continues to diminish with our latest cost of textbooks documented at $22.

Northeast's rapid increase in using Open Educational Resources in the classroom has led to the college becoming the first IHL in the state — community college and four-year college/university — to award students a Z-degree. Due to faculty grants through the Mississippi Z-degree program, Northeast has embraced O.E.R. in the classroom and provided a lower barrier entry cost for students as faculty build their textbooks and use technology in the classroom. 
Since Fall 2015, Northeast has seen a jump from just 17 percent of the college's faculty using O.E.R. in the classroom to over 75 percent using it in Fall 2021. While this has been beneficial to faculty, who can build textbooks for the subject area they teach, students have also benefited from the use of O.E.R. in the classroom. Northeast has been able to save students more than $7 million in costs as calculated by textbook revenue through the campus bookstore, and those students in the Z-degree program will not incur any textbook costs ($0) while earning their degree in General Studies at Northeast.  

Students are impacted in numerous ways throughout their time at Northeast. Three of the most significant accomplishments by the college while using iPad, O.E.R. and other technology in the classroom are 1) Student Success Increased in the classroom, 2) Student Satisfaction Increased, and 3) Enrollment trends stayed steady. 
Before Northeast embraced technology, the college's success rate (the percentage of students scoring A, B, or C in class) was 72 percent. Over seven years, the college has been able to increase its overall college success rate to 80 percent as the college has welcomed technology into the classrooms. 
Students not only enjoy the ability to use what they know in the classrooms, but with better Internet access points and the ability to collaborate with their classmates outside of class time, students have shown an increase in satisfaction as well. Students have become more engaged in learning, and their college experience has grown with a reduction in course material costs. 
As other community colleges and even some four-year colleges/universities have witnessed, keeping students from year to year is a struggle, but Northeast has been able to keep its enrollment trends steady as other colleges have seen their enrollment decrease during the same time.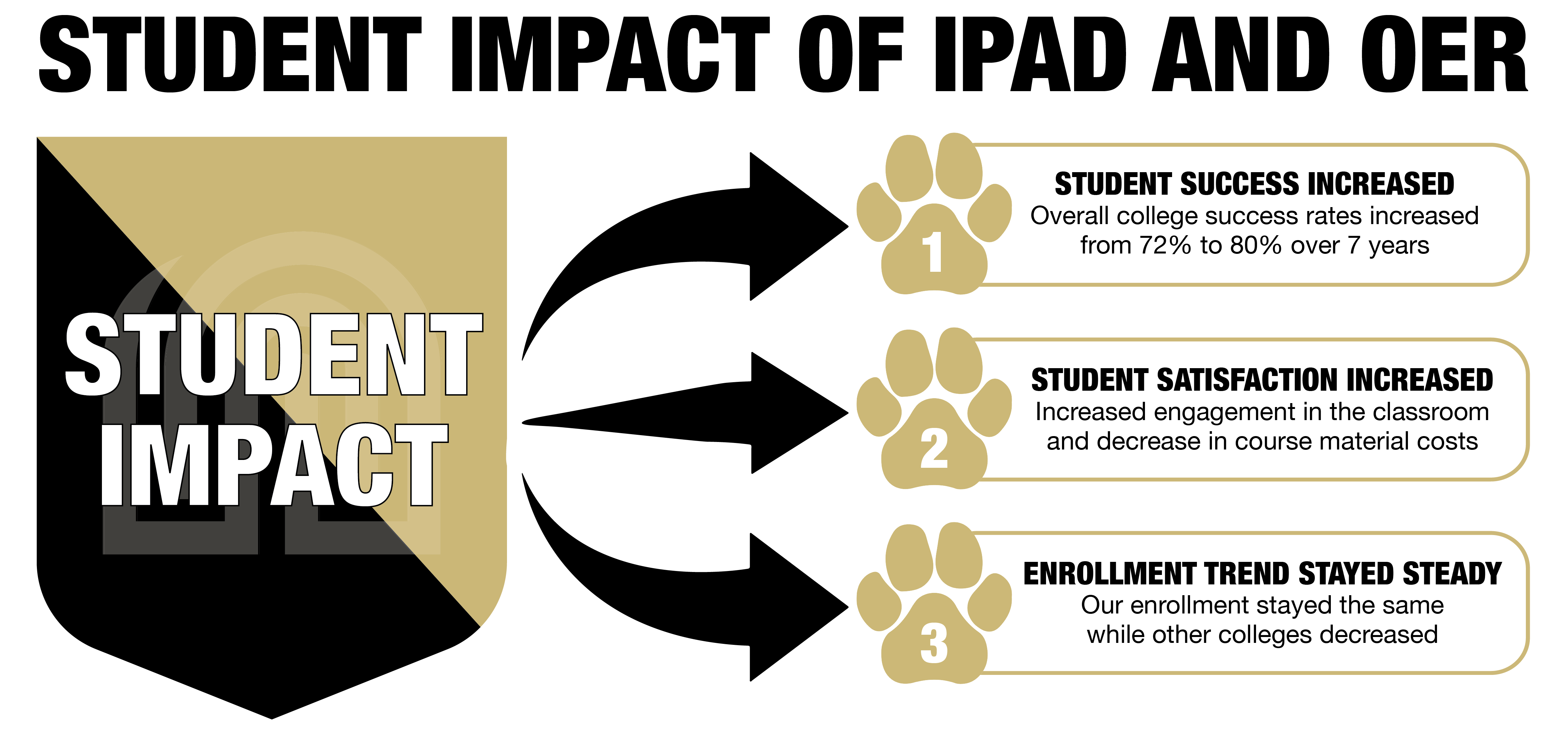 Northeast's technology initiative has proven its worth in the classroom as well. Northeast students routinely outperform other students in the Magnolia State. Northeast students have a higher grade point average when transferring to a four-year college/university than native students who choose to go to a four-year college/university straight out of high school.
In addition to a higher grade point average, Northeast students who take a development course at the college often see a higher success rate than those at other schools around the state. Northeast students have been able to not only succeed in studies after taking a development course, but the college has been able to reverse the trend in Mississippi. During the 2020 global coronavirus pandemic, the college and the state saw a drop in those who completed an English course following a development course, but while the state's completion rate has dropped to just over 40 percent, Northeast was able to keep the same completion rate above 50 percent for its students.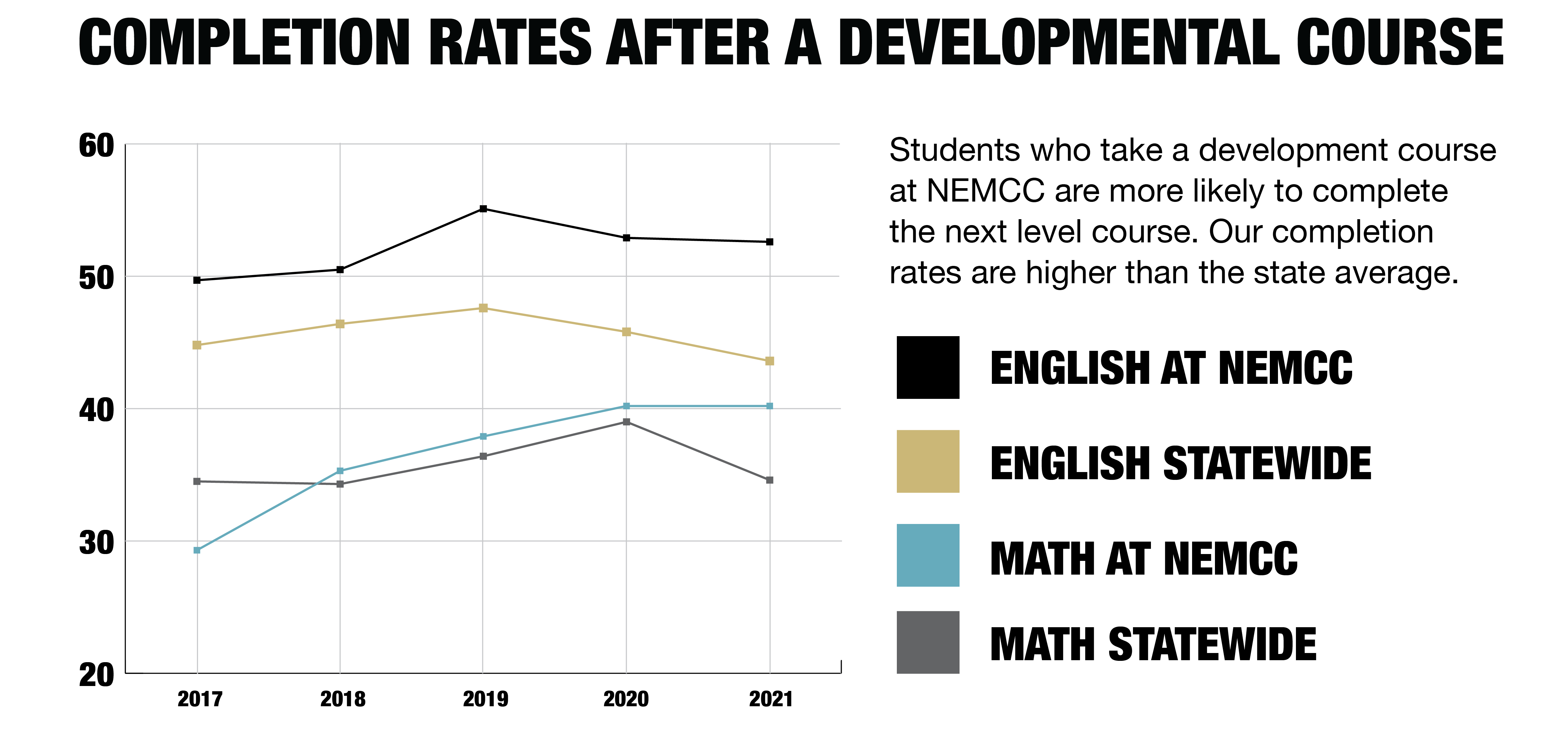 Course completion and success rates in many other courses around Northeast have seen an upward swing as well. Even though our iPad initiative didn't go campus-wide until 2018, sections of College Algebra, English Composition, and Psychology began incorporating the iPad and OER as early as 2016. Even in this early phase, success rates started a steady climb. 
Northeast's College Algebra classes saw increases since the establishment of O.E.R. and iPad in its curriculum, and coming out of the global coronavirus pandemic, the success rate for those in College Algebra exceeded that of pre-pandemic levels and sits just under 90 percent. 
Northeast's English Composition I students have also made an impressive return since the global pandemic. Faculty implemented OER in English Composition I courses in 2017, and with the addition of the iPad in 2018, course success continued the rise. Coming out of the global pandemic, the success rates in English Composition I at Northeast surpassed pre-pandemic levels as well. 
Northeast's Psychology courses have started to see the same trends as College Algebra and English Composition I since Northeast incorporated O.E.R. and iPad into the curriculum. 
Retention is another area where Northeast has see growth.  While the state of Mississippi saw a significant drop during the global coronavirus pandemic (nearly 10 percent), Northeast was able to maintain enrollment where other institutions saw a decrease.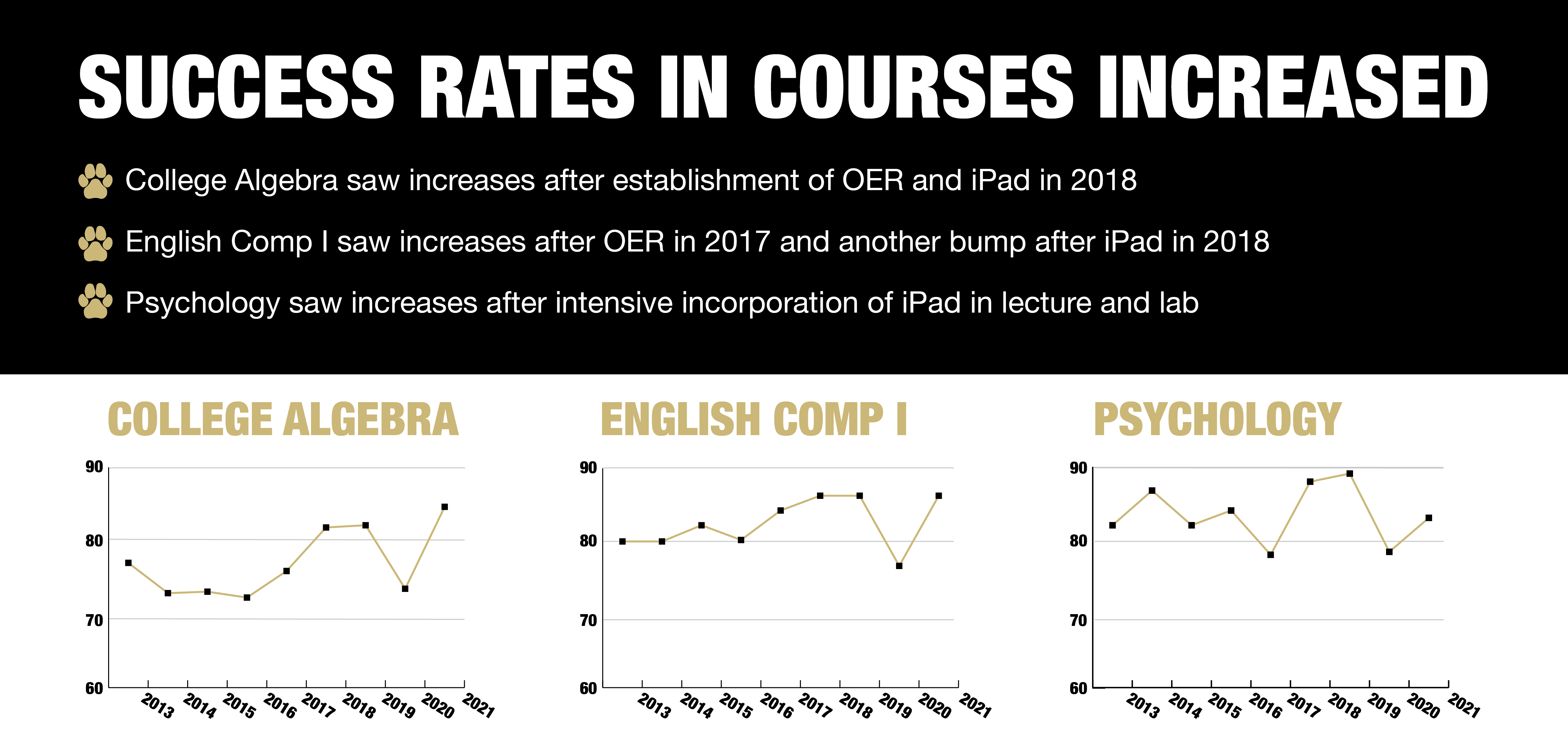 Prepared for the Pandemic
Northeast did not let a global pandemic slow its technology down and, in fact, embraced the global pandemic as a test of its iPad 1:1 initiative. In less than a week, Northeast employees moved over 600 courses online when the coronavirus sent the latter part of Spring 2020 online to help mitigate the spread. While many educational institutions struggled to make the switch, Northeast was at the forefront of learning and assisting students to adjust to a new learning environment. 
Not only did Northeast transition 600 classes online in less than a week, but employees took it upon themselves to help those around them. Through the B.R.I.D.G.E.S. (Building Relationships In District: Growing Every Student) initiative, Northeast founded an open Canvas course to help K-12 instructors embrace the move to online. 
Northeast provided employees to help instructors who found themselves lost in the online world, with countless hours of phone calls, Facetimes, and even socially-distanced meetings to aid K-12 instructors with setting up their own Canvas/Blackboard and other Learning Management Systems.  Explain Everything, Apple Clips, and built-in tools such as markup and screen recording allowed educators to create tutorials for students and for one another. Northeast also banded with local businesses and created a Google Map with locations to help students and the public find wireless internet spots where they could complete their studies. 
For its efforts during the Global Coronavirus Pandemic, Northeast Mississippi Community College was recognized as the top community college in the state by College Values Online when it released its rankings in early 2021. 
While awards create marketing opportunities for the college, Northeast realizes that embracing technology in the classroom is more about producing students who are qualified for the workforce or a four-year college/university when they finish their time at Northeast.