Learning Reimagined
Our Story
In the early 2000's, we noticed Northeast students were facing challenges caused by the rising costs of textbooks and an outdated and obsolete computer infrastructure.  It was time to rise to the challenge and meet student needs in a way that was equitable and forward-thinking. 
Goals
Three important goals were considered when addressing the challenges students were facing in higher education:
Equity – All students must have access to learning materials on day 1 of classes. Learning materials include course materials AND a means by which to access those materials. We want to ensure every student has the tools and support they need to be successful. 
Relevance – We want our students to be exposed to and experienced with the latest technologies so they are well prepared to enter university programs and/or the workforce.
Affordability – The tool we provide to students must be affordable and of high quality. An equitable, student-first mindset means we put systems in place for success – even financially.

With the availability of over 200,000 educational apps, the mobility and accessibility features offered, and the protection against malware, the iPad was chosen as the primary learning device for Northeast.  Further, the single device would allow instructors more freedom and confidence in redesigning curricula with a technology core.  Instructors could rethink their classrooms and create an environment where learning is more interactive, engaging, and student-centered.
A Timeline for Success
Northeast's journey with technology began in 2008 with the offering of courses through iTunes U.  We have been on a steady path of infusing classrooms across campus with digital learning tools ever since.
Digital tools empower students and educators to learn and create in ways that are personalized and creative.  Our growth of technology in the classroom has been an adventure that supports teaching and learning in defiance of limitations and creates a unique learning experience for students.
The Early Years
Northeast's journey with technology began in 2008 with the introduction of the iPod touch in the Radiologic Technology program in Health Sciences.  It was used for clinical tracking purposes which included students clocking in, procedure recordings, and evaluations.  Each year, we progressed to more advanced technology, and iPads soon made their way into the hands of students.
In 2011, we began the campus shift from physical to digital in all Health Science programs by requiring iPads and replacing print textbooks with digital resources. The students used the iPad to access their ebooks for their course materials and for clinical purposes.  Students also began making podcasts and various media that was shared into iTunes U.
By 2015, more and more programs across campus began to utilize digital textbooks, and some courses across campus became "iPad only," which meant students had to have an iPad to register for specific sections of a class.  Over time, the data started rolling in, and courses/programs that required the iPad saw a greater retention and student success rate.  We knew this "iPad only" option was not sustainable, however.  It created an equity gap on campus because not everyone had the financial capability to purchase an iPad for class, and therefore, had to register for an alternative section.  We knew a 1:1 environment was soon in our future.
OER came into the picture in 2016 when many instructors at Northeast received grants to develop their own course materials. With OER, we were able to offer course materials to students at free or reduced costs.  The shift to digital was in full swing, and as instructors received professional development on how to effectively use the iPad during instruction, active and personalized learning led to improved retention and student success.  It was imperative that every student at Northeast have the opportunity to use an iPad.  We had to create an equitable learning environment for our students.  The lowered cost of course materials due to the shift to digital textbooks and increased number of OER options across campus in combination with the affordability of the iPad made the decision to go 1:1 an easy one.
The ONE Northeast Initiative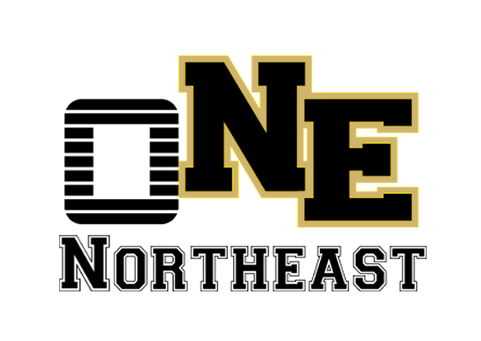 In 2018, it was time to make the 1:1 iPad environment campus-wide and expand the use of technology in education to every student at Northeast.  The oNE Northeast initiative linked our iPad and OER implementation, and this campus-wide expansion propelled faculty and students into the next level of teaching and learning.  Under the guidance of the "oNE Northeast" initiative, we challenged ourselves to meet four criteria that served as barriers of entry for students. Those criteria were: 1) lower textbook costs, 2) engage students, 3) improve communication, and 4) prepare students for the workforce with the latest technology.  It was clear that we had reimagined learning by shifting from a traditional textbook, paper/pencil environment, to a digital campus offering iPads to every student and the availability of OER campus-wide.  Coupling the 1:1 iPad initiative with a wave of OER and digital textbook implementations offset the cost of the iPad and saved students money.  The OER initiative has continued to spread across campus, and in Fall of 2020, 73% of course materials were OER.  NEMCC has saved students more than eight million dollars in textbook costs! 
Reduced cost is not the only result of oNE Northeast.  We have also seen growth in student engagement across campus leading to stronger communication and improved student success.  Success rates have increased from 72% to 80% over the last 7 years, and student satisfaction has been steadily on the rise.  An NEMCC iPad Survey revealed that 75% of students feel that using the iPad is an important part of their classroom experience with 56% citing that this technology helped them connect to ideas in new ways.  We are excited to continue to grow and improve student success using technology.  We hope to see more increases in student success and more innovation in the classroom where students are developing their own content through creative, engaging activities.
During the 2018-2019 school year, we went one step further and announced the first general studies Z-degree in Mississippi (including both two- and four-year colleges and universities).  Z-degree refers to zero cost textbooks.  This means a student enrolled in general studies would never shoulder the burden for textbooks during their time at Northeast.
Distinguished School Status
With such positive results, Northeast has become a national leader of technology in the classroom, and in 2020, we were recognized as an Apple Distinguished School (ADS).  We are the fourth community college in the world to be honored as an ADS and eighth in the nation among all higher education institutions.  Apple Distinguished Schools not only inspire creativity in the classroom but challenge instructors and students in the areas of collaboration and critical thinking using innovative technology with documented results of academic accomplishments.  

Going Forward
At Northeast, technology isn't confined to the classroom.  In addition to academic instruction, technology has infiltrated many aspects of campus life.  The Student Success Center and Library harnesses top-of-the-line technology to create a collaborative and supportive learning environment, athletic programs have infused technology to grow and improve, the arts and music departments have taken advantage of this powerful teaching tool for performances and exhibits, and technology has even spread into the community through Northeast's Mobile Learning Conference, BRIDGES, and the Career Development Academy.  Checkout how technology is being used across campus In the Spotlight. 
Where will we go next?  The sky is the limit!
Visionaries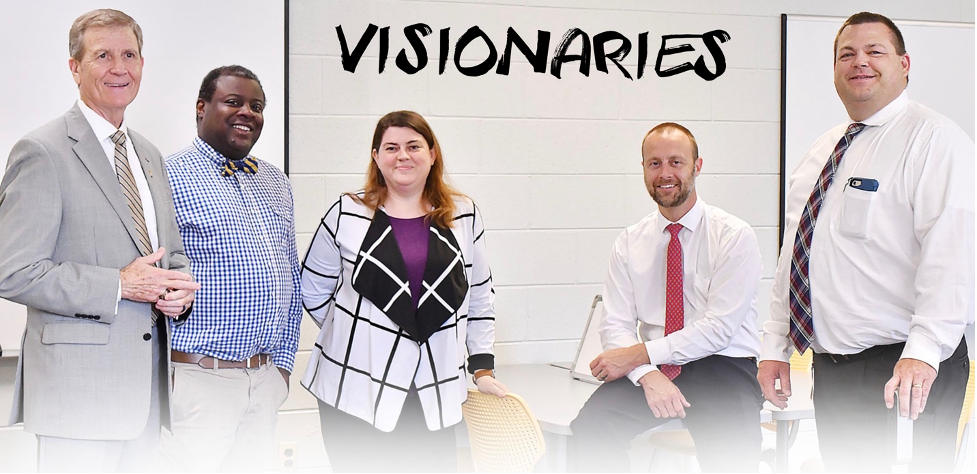 From left: Dr. Ricky Ford, Jeffrey Powell, Dr. Michelle Baragona, Dr. Craig-Ellis Sasser, Chris Murphy